Power Cable Testing Equipment is checking mechanical strength of completed flexible cables. This test does not apply to flexible cables with cores of nominal cross-sectional area greater than 4㎜2,nor to cables having more than 18 cores laid up in more than two concentric layers. according to IEC60245-2/1998-04 figure 1, IEC60227-2/1997-11 figure 1, IEC60065 /1998-07 Table 11.
Feature:
This apparatus consists of a carrier C(see IEC60245-2 Figure 1),a driving system for the carrier and four pulleys for each sample of cable to be tested. The carrier C supports two pulleys A and B, which are of the same diameter. The two fixed pulleys, at either end of the apparatus, may be of a different diameter from pulleys A and B, but all four pulleys shall be so arranged that the sample is horizontal between them. The carrier makes cycles (forward and backward movements) over a distance of 1 m at an approximately constant speed of 0.33m/s between each reversal of the direction of movement.
A sample of flexible cable about 5 m long shall be stretched over the pulleys, each end being loaded with a weight. The mass of this weight and the diameter of pulleys A and B are given in following table.
Standard Outfit:
1 carrier, with recirculating-ball bearing bushes running below the table-board on two cylindrical guide-ways, with mounted traveling boom,
1 geared motor with chain and connecting rod to drive the carrier with a speed 0.33 m/s±5%,
1 set per sample of bolts and nuts for fastening the pulleys,
1 set per sample of restraining clamps and stops to limit the travel of the sample,
1 set per sample of instrument terminals or – after agreement-plugs and socket-outlets for connection of sample,
1 set per sample of clamps to fasten the samples beneath the instrument terminals,
1 set pulleys of diameter 60mm-80mm-120mm-160mm-200mm,
1 set weights from 0.5 kg to 8 kg,
1 electrical switching and control unit with main switch, lockable switch,
1 electrical control system of load current 0~25A, load voltage 0~400V, testing stops when current interruption, short circuit between the wires, short circuit between the sample and the pulley.
Power supply: 380V 50Hz, other voltage on request.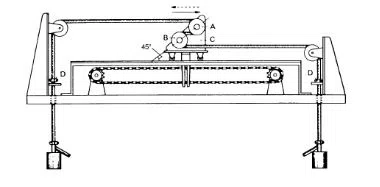 Best Service and advantages:
High quality, Long life time and Competitive price
Best after service:Professional R&D and technical team support,can make OEM & ODM order,and also can provide overall laboratory solutions,and good service.
Strict quality control,more than 24hours before shipping and with 1year warrant
Short leadtime and fast delivery
FAQ
1.How about your test equipment quality?
1) .We are leading testing equipment manufacturer in China with exporting experience for over 20 years.
2).All product we supply to customer are calibrated by ISO 17025 accredited lab and ILAC certificate is provided
3) .We are audited testing equipment supplier of Bureau Veritas Group,TUV Rheinland,TUV Product Service,
UL Laboratory,SGS,Intertek etc.
2. What about the transportation?
Various transportation ways is available
We have over 20 years exportation experience and will do our best to save clients' shipping cost.
3.How about after-sale service?
A professional A/S engineer team with 20 years experience
One year guarantee period and life long term repair service
A/S feedback are provided within 24 hours.